REGISTER — Bette's Happy Hour — Life During Wartime
Registration link for Bette's Happy Hour — a wellness check for global newsies — Tuesday, Oct. 17, 5 pm
***Upgrade to a paid membership and join our wonderful pro-democracy community.***
We just ended our Founder's Day zoom with author, poet, and war correspondent Zarina Zabrisky, who was reporting under fire from Kherson. We learned that while the world turns its attention to Israel after the horrors of Oct. 7, Putin — who was born on Oct. 7 — is ramping up attacks on Ukraine under cover of darkness as many reporters have left Ukraine for Israel.
Another event occurred 17 years ago on Oct. 7 — the assassination of investigative reporter Anna Politkovskaya.
As I wrote nearly a year ago:
'All We Have Left is the Internet'
Investigative reporter Anna Politkovskaya did not die of a mystery lung disease like Dawisha and Barrett. She was assassinated for her work. She was poisoned previously and intimidated and harassed for years before her shooting at point-blank range on Putin's birthday in 2006.

Her burial on the outskirts of Moscow was attended by 1,000 mourners.

She was born in New York City to Ukrainian parents who were Soviet diplomats to the United Nations. She spent most of her life in Moscow, and began her reporting career in the early 1980s. Much of her work focused on human rights abuses and social justice issues, and from 1999 to 2006, she wrote biweekly columns in Novaya Gazeta, where she won awards for her coverage of the Chechen war and published multiple books, among them Putin's Russia - Life in a Failing Democracy.

She tried to warn the West about the corruption of Putin, and the human rights abuses committed by the Russian military, abuses we are seeing repeated today in Ukraine.

In a 2004 article in The Guardian she wrote:

We are hurtling back into a Soviet abyss, into an information vacuum that spells death from our own ignorance. All we have left is the internet, where information is still freely available. For the rest, if you want to go on working as a journalist, it's total servility to Putin. Otherwise, it can be death, the bullet, poison, or trial - whatever our special services, Putin's guard dogs, see fit.
In RadPod's most recent interview with Zabrisky, she describes what it's like to feel hunted — as Russia tries to erase Kherson.
She is in Kherson reporting with veteran war correspondent Paul Conroy — now covering his 19th war, and who was injured while reporting in Syria with Marie Colvin, a foreign correspondent for The Sunday Times, who died in the 2012 attack.
That same year, Colvin won the Anna Politkovskaya Award.
Sigh.
We try to lighten our heavy loads with weekly wellness checkins, and I do hope many of our new members make a habit of joining our vibrant pro-democracy community. We are each doing something toward our goal of ensuring the American experiment continues and liberal democracy globally continues.
Truly, one of the best reasons to join Bette is to partake in our weekly Happy Hour, where we check in on what we are doing to stay well during trouble times.
This week's details below:
BETTE'S HAPPY HOUR — REGISTRATION LINK BELOW PAYWALL
Bette's Happy Hour — a weekly wellness checkin for global newsies

Tuesday Oct. 17, 5 pm PT — an hour of self-care with fellow pro-democracy truth activists. As news breaks, we often adapt the wellness checkins to include experts in various fields.
Hope to see many of you in the squares.
And please enjoy these photos of Sunday's Annular Solar Eclipse.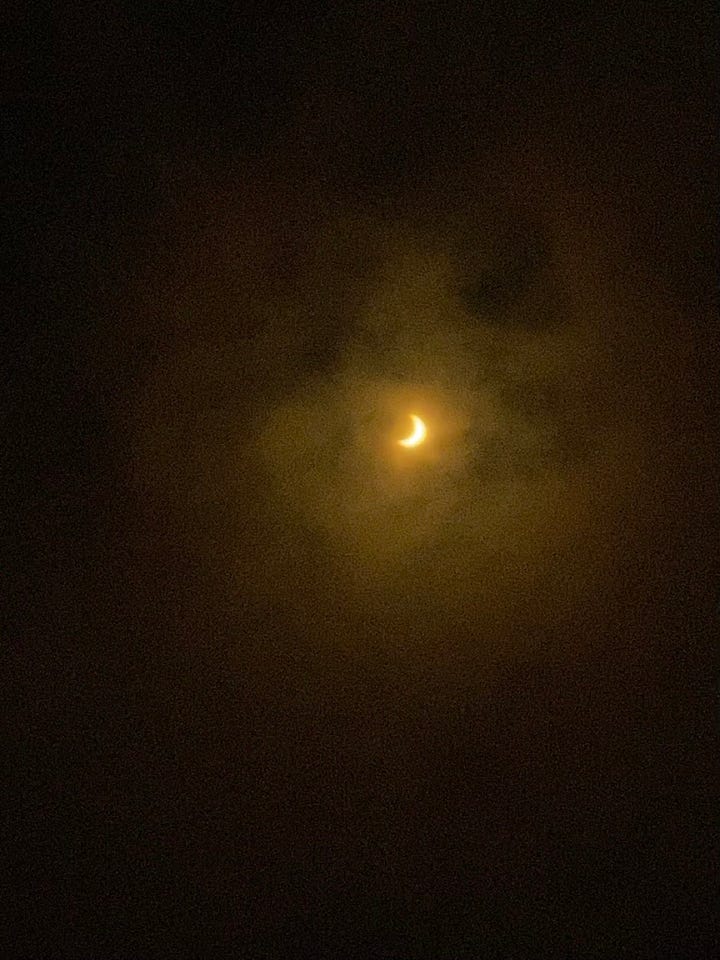 💘🇺🇸
****
Bette Dangerous is a reader-funded magazine. Thank you to all monthly, annual, and founding members. Thank you as well to all those who support my work with your generous coffee tips and who buy my ebooks. Some of you prefer to donate via venmo, and it's always greatly appreciated. A private link to an annual membership discount for activists and members of the media is available upon request at bettedangerous@gmail.com.
More info about Bette Dangerous - This magazine is written by Heidi Siegmund Cuda, an Emmy-award winning investigative reporter, author, and veteran music and nightlife columnist. She is the cohost of RADICALIZED Truth Survives, an investigative show about disinformation and is part of the Byline Media team. Thank you for your support of independent investigative journalism.
🤍🤍
"I say a silent prayer of thanksgiving as I walk upon the earth."-Audrey Peterman.
"May the viral hope for truth and humanity wash away the chaos of these years."-S.C., Bette community member
"Something Sacred never dies in almost all of us, that can hear the invitation of Truth…"-words from a Bette Dangerous community member
"Nothing but blue skies from now on…"-Irving Berlin
🤍🤍
REGISTER HERE…
Keep reading with a 7-day free trial
Subscribe to Bette Dangerous to keep reading this post and get 7 days of free access to the full post archives.