Share this post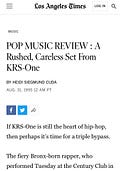 Bette Dangerous Podcast Ep4 - Haunted By Adjectives
www.bettedangerous.com
I hope you enjoy these periodic palate cleansers from the seriousness of the fash. I know I do, lol. My Hollywood nightlife and music memories are something I cherish - and I am glad to be able to start sharing them with you.
KRS-One once drew me a cartoon during an interview. I'm sure I have it somewhere. It literally broke my heart to write a lousy review, but even though I was being paid shite, and I didn't have to, a writer without truth is a bit shit.
To read the original print version of the Haunted By Adjectives memoir, please go here.
I spent the morning writing a serious investigation for Byline Supplement, and it feels good to lighten the heart a bit. More tk xo
****
Bette Dangerous is a reader-funded magazine. Thank you to all monthly, annual, and founding members. Thank you, as well, to those who support my work with coffee tips and who buy my ebooks. My reflection, Confessions of a 'Fox Blonde' was recently published in Byline Supplement. In a review of my latest ebook, the erotic novella Fox Undercover, author Greg Olear called it "The Big Sleep 2.0" except with "not so much sleep happening."
Fox Undercover can be purchased here.