Share this post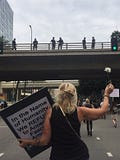 Bette Dangerous Podcast Ep30 - This One Goes Out To the Ones I Love
www.bettedangerous.com
Bette Dangerous Podcast Ep30 - This One Goes Out To the Ones I Love
Mothers of the Resistance
Big girls don't cry, but I do.
I made a promise to my children on November 9, 2016, that we would get that criminal bastard. It is our failing that it took seven years and four decades to even begin the process of ensuring Donald Fucking Trump is a convicted felon and cannot run for office, even though as I have learned from Ruth even if he is in prison he will try. Playing victim is his money-maker and as long as he has breath in his body, he will shake it.
Print version of this podcast here.
Our next 'Speakeasy' guest is David Pepper, and aren't we lucky.😻🇺🇸
Thank you to all who support me with paid memberships, and to the many members who recently upgraded to Founding Member. I am ever so grateful.💘
****
Bette Dangerous is a reader-funded magazine. Thank you to all monthly, annual, and founding members. Thank you as well to all those who support my work with your generous coffee tips and who buy my ebooks. A private link to group activist discounts available upon request.
More info about Bette Dangerous - This magazine is written by Heidi Siegmund Cuda, an Emmy-award winning investigative reporter, author, and veteran music and nightlife columnist. She is the cohost of RADICALIZED Truth Survives, an investigative show about disinformation and is part of the Byline Media team. Thank you for your support of independent investigative journalism.
Save the date! The next Bette Dangerous 'Speakeasy' Zoom for paid members is Sunday, April 9, 4 pm PT, featuring 'Laboratories of Autocracy - A Wake Up Call from Behind the Lines' author David Pepper.
Pepper is a brilliant democracy coach, and no one will get you more excited about how you can pitch in to save ours. Please consider subscribing to join the community. Looking forward to meeting new members and seeing Bette's core group. 🤍
🤍
"Something Sacred never dies in almost all of us, that can hear the invitation of Truth…"-words from a Bette Dangerous community member
(Resisting, November 12, 2016)